A Clean Advantage: 95% Success Rate
It's tried and true. Put the proven stability and profitability of a laundromat investment to your advantage.

95% Success Rate3
Compared to success rates of other common investments, laundromats have exceptional success.

Always in Season
Unlike other investments, laundromats are always in season—clean laundry is something everyone needs, no matter what time of year.

Low Start-Up Costs
Start-up costs are just over $200,0004—far less than car washes, convenience stores and self-storage.

Low Labor Costs
Labor costs are low—70% of laundromat investors have 0-3 employees6. Say goodbye to high overhead.

20-35% Average Return-on-Investment5
An average cash-on-cash ROI of up to 35% is both impressive and advantageous when compared to other investments.

Simple Accounting
There's no need for complex accounting. Customers pay upfront using cash, coin or in-app payments.
We'll Guide You Every Step of the Way in Your Laundromat Investment.

Easy financing
Demographics analysis
Site selection

Store layout and design
Technology for data and cost savings
Marketing
Laundry Equipment is Built for Top Return on Investment.
Your bottom line is a reflection of your machines' performance. When your machines power through unending loads year after year, you spend less time and money on repairs—keeping profits in your pocket and time on your side. That's important when considering starting a successful laundromat business.
Only the best equipment gives you the return on investment you're looking for.
Technology Makes Your Life Easy and Drives Profitability.
Managing a laundromat investment has never been easier—or more profitable—thanks to cloud-based technology that puts you in control.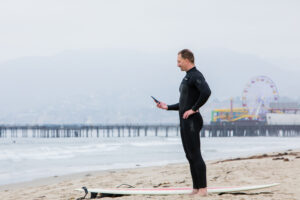 Manage Remotely
Seaside or fireside—manage your laundromat from anywhere.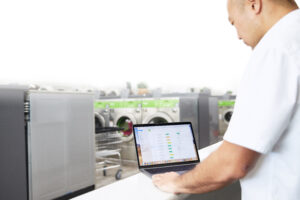 Monitor Performance
Detect machine maintenance issues early and restart machines remotely.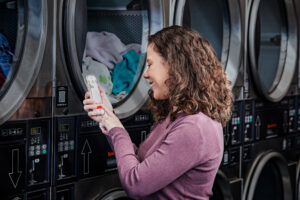 Generate Customer Loyalty
Rewards keep customers coming back to keep profits pouring in.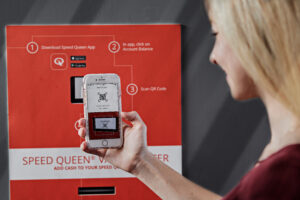 Accept Mobile Payments
Simplify payments for your customers and get paid faster.
Delivering Excellence in Knowledge, Service and Support.
Alliance Distribution prides itself on being globally focused and locally committed. We are local experts providing the highest level of customer service and world-class laundry solutions. Each location delivers excellence in knowledge, service and support.
1. Source: https://www.fsrmagazine.com/expert-takes/restaurant-profitability-and-failure-rates-what-you-need-know
2. Source: https://smallbusiness.chron.com/businesses-high-failure-rates-61640.html
3. Speed Queen laundromat success rate is the number of NOT charged off loans per laundry divided by total numbers of loans originated from January 2001 through June 2013, based on experience of Speed Queen Financial Services.
4. Speed Queen Financial Services estimates this start-up cost range between $100,000 and $300,000. This is based on an average of thirty percent down payment required on total laundry store development costs for new laundry store transactions.
5. Wallace, B. (2014, December 9). Getting Into the Laundry Business [Webinar]. Retrieved October 6, 2015, from http://www.coinlaundry.org/HigherLogic/System/DownloadDocumentFile.ashx?DocumentFileKey=f0c0f96e-bac9-4baa-b0ed-5e3f40c01e69
6. Coin Laundry Association's 22nd Industry Survey (Date Unknown). Coin Laundry Association.