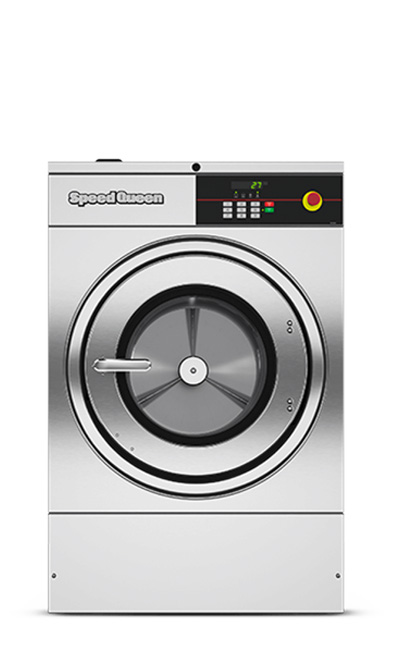 Speed Queen Front Load Washers Extractor (Hardmount)
Activation Type: Touch, Vended, Non-Vended
Description
A heavy-duty design meets superior machine mechanics to form the industry's most trusted hardmount washer-extractor.
Heavy-Duty Design – A heavy-duty frame is equipped with durable bearings that wear less because they're designed better and more protected against wear and tear.
Advanced Inverter Drive System – Provides smooth, reliable performance and higher extraction speeds while saving you up to 33% on electricity.
High Extraction Speed – New technology on Quantum Gold machines have up to 200 G-Force extraction to remove more water, leading to shorter dry times and lower energy bills.
Sump System Design – Maximizes cleaning power while using 7% less water.
Capacity Available:
20lb | 30lb | 40lb | 60lb | 80lb | 100lb
Controls
The cutting-edge Quantum® control system from Speed Queen® gives you the freedom to run your business your way and the power to achieve unprecedented levels of profitability. This revolutionary technology combines equipment controls and programming into one full-store management system for washers and tumble dryers.
Quantum Gold
Take control of your business and run it the way you want. Whether you'd like to charge different vend prices for each cycle or need more G-Force, the choice is yours. With Quantum Gold controls it's easy to customize your laundry operation to meet your needs.
18 total cycles
2 cycle modifiers for increased profitability
Flexible pricing & additional revenue opportunities with customizable cycle modifiers, time-of-day pricing and lucky cycle options
On screen timer so your customers know exactly how much time their cycle will take
Flexible Payment Options – Coin, Card, Cash
Spec Sheets
Keep Your Laundry Running Smoother, Longer